I've told this story before, but, when my wife told me that we were going to have our first child, the following day, I drove to the bookstore and I bought my yet-to-be-born daughter a copy of The Phantom Tollbooth by Norton Juster and Jules Feiffer.
It was the very first thing I ever bought her. We hadn't bought any clothes or toys or diapers yet. We hadn't even gone to the doctor's to confirm that the pregnancy test was right. But the moment that I found out that I was going to be a father, that I was going to be responsible for bringing a child into the world, an impulse in my brain clambered above the fog created by all of my worries, fears and anxieties, waved its arms and proudly announced, "HEY, the kid needs a copy of The Phantom Tollbooth!"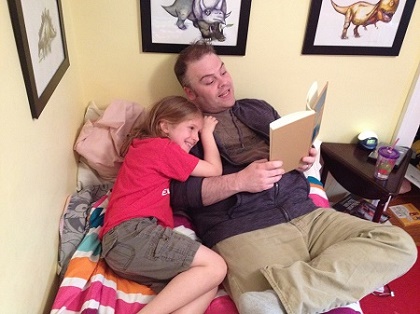 And I listened. The best part was I already owned a copy of The Phantom Tollbooth, but I wanted her to have her own copy. It felt important to me and, to be honest, it still does.
From that first moment, I KNEW, I knew in my bones, that reading was going to be an absolutely essential part of being a father and I wasn't wrong. During my wife's pregnancy, as I sat there thinking about what could I EVER impart to a young child that would ever be worth a damn, my mind kept coming back to the same answer – BOOKS. I could give her books.
That didn't mean I had to BUY her a lot of books (even though I did). It just meant I had to introduce her to books. I had to lead her to books. And that responsibility unlocked something primal in my brain that I didn't know was there before. For the first time in a long while, I was driven. I had purpose. I was a DAD and I had a job to do.
Other dads might hunt or fish or work at a bank for their families, but me? I knew what I had to do. I had to make sure that my kid knew that, yes, there IS a monster at the end of this book, but, you know what? It's not what you think. (It's better.) [read the rest of the post…]
{ 1 comment }