About Me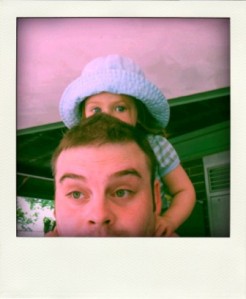 Hi! I'm Tom Burns. I'm a husband, a dad, and a veteran of the educational publishing industry, living just outside of Detroit Rock City.
I've worked in publishing and marketing for all of my career, but, for almost twenty years, I've also been a writer and contributing editor to many different websites and print publications. You may have seen my writing on Brightly, 8BitDad, The Huffington Post, Mom.me, The Good Men Project, xoJane, Reading Rainbow, Time Magazine, YourTango, and several other sites. I've also made appearances on The Meredith Vieira Show and HuffPost Live and was featured as a contributor in the Random House book, A Letter to My Mom. And I do freelance social media consulting when I have a second to breathe.
I'm a very big geek-dad and went minor-league viral a while back as the "Princess Leia Dad," when I shared some Halloween shots of my daughter dressed as Han Solo and me dressed in my best Carrie Fisher outfit. (You can read the whole story here.)
I love talking parenting, books, libraries, readers' advisory, movies, and pop culture. I've spent several years editing scholarly reference books on contemporary and children's literature and film and TV. (So, if you're wondering if I have an opinion on that one particular book or movie, the answer is probably YES.)
You can check out some of my more articles below (to give you a sense of what I'm all about). If you have any questions, want to get in contact, or have any work that you think I'd be perfect for, please click the "EMAIL ME" link in the upper-right corner. I'd love to hear from you.
THINGS I'VE WRITTEN:
Buying Boys Underwear for My Daughter: Gender Disparity in Kids' Character Undies
9 Tips for Taking Your Kid to Their First Comic-Con
My Daughter Ruined Time Travel for Me
Why It Matters That They're Now Making Star Wars and Marvel Underwear for Girls
Why Mary Shelley's Frankenstein Is the Greatest Book About Parenting Ever Written
Lies I've Told My Kid While Reading
Why Independent Bookstores Are a Parent's Best Friend
One Dad's Reading Resolutions for the New Year
So My Kid Asked, 'Can Sex Be Fun?'
25 Things You Need to Know Before You Become a Dad
What's a Dad to Do When His Daughter Wants to Dress as Han Solo?
Why Reading with My Daughter Is The Most Masculine Thing In the World
My Daughter Has No Problem Making Friends, But I Do
15 Adorable Reasons Why You Should Celebrate Father's Day with a Book
My 7-Year-Old Daughter Tried to 'Catfish' Me
I'm NOT Selfish For Having An Only Child (So Mind Your Own Business)
Six Ways Books Can Be A Parent's Best Friend
How Improv Comedy Made Me a Better Parent
Our Family Was Handed an Anonymous Note at a Baseball Game Last Night—This Is What It Said
The Importance of Buying Normal Clothes for Our Daughters and What You Can Do About It
Why Women Don't Need Husbands, By a Husband
The Coolest Man in the Room: Ghostbuster Peter Venkman as Male Role Model
Kids Challenging Gender Barriers, One Pair of Batman Undies at a Time