A few months ago, I found out that two of my best friends in the world were having a baby. And not just "a baby", they were having twins – twin girls – after years of unsuccessful attempts to get pregnant. Needless to say, I was overjoyed, just completely over the moon for them. But then… all my OCD impulses kicked in and I immediately thought, "Oh man, I have to make sure those girls have a decent selection of reading material." So, for the second time, I embarked on an attempt to "build a library" for a new baby (or babies, as it were).
I used the same methodology I used for my own daughter – I would buy one book a week during the pregnancy and I would try to stay away from books that they'd probably get as baby shower gifts. (Goodnight Moon, Runaway Bunny, anything that's available at Target, etc.)
However, a few weeks into the pregnancy, my friends turned to me and said, "Hey, remember that whole one-book-a-week thing you did for Charley? We're doing it too." I laughed hysterically, said "Good to know!", and pulled out the eight-or-so books that I'd already bought them. Fortunately, we hadn't doubled up on any of the books – but they're twins, so I feel doubling up is OK – and it just reaffirmed my long-held opinion that my friends are AWESOME.
But it didn't stop me from buying the books. All it did was add another variable to my selection process. So now I buy one book a week, try to stay away from books that they'd probably get as baby shower gifts, and try to stay away from books they'd buy themselves. (And I'm being a little more diligent about saving the gift receipts as well.)
They're in around their 20th week of the pregnancy, so I haven't finished my "40-week library for friends" yet, but I thought I'd share what I'd bought them so far to give you some ideas about buying books for expectant parents. (I'll share the second half of my library list after the twins are born.)
If asked to "build a library" for the children of my very best friends, these are some of the books that would immediately rise to the top of my list. Yes, it's subjective and selective and built around my own weird variables – there aren't any Mo Willems books on the list yet because I wanted to see how many Pigeon books they'd get at their baby shower – but I think ANY of these books are great places to start.
If you're building a library for a friend or even just looking for some great baby shower gifts, these books are definitely worth checking out. (Some of these books have been covered on the blog before, so I'll provide links to the longer write-ups.)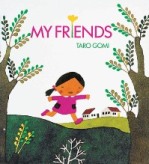 Last September, I called My Friends "an ideal bedtime book. Truth be told, I literally read My Friends to my daughter at bedtime every single night I put her to bed from when she was five months old until she was about 15-months-old." One of the best board books in history, in my humble opinion.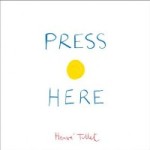 Last November, I called Press Here "a fairly amazing book because it doesn't wow its audience with a story or with particularly flashy illustrations, but rather it draws readers in with interactivity, with humor, and with that drive that comes with all printed books – the drive to see what happens next, to see what's happening on the next page."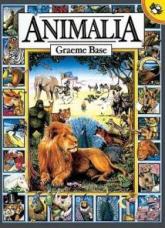 We actually don't own a copy of Animalia ourselves – I don't know if my daughter has ever read it – but it is simply one of the most expansive and beautiful alphabet books that I've ever encountered. Graeme Base has created this gorgeous tapestry of images, a collection of widescreen fantastical images of animal life, each accompanied by short alliterative phrases like "An Armoured Armadillo Avoiding an Angry Alligator." I love the idea of taking the 70mm Cinemascope beauty of Base's illustrations and plopping it in front of a young child. It will blow their minds. And they'll think the alphabet is a million times more interesting than it actually is.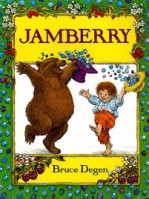 Easily one of our most read board books of all time. I don't what makes Jamberry so appealing to young children, but my daughter loved it. The story follows a boy and his bear best friend berry-picking and wandering through a variety of berry-inspired landscapes. We start with "One berry, two berry, pick me a blueberry" and, as the boy and the bear head out "looking for berries / berries for jam", the verses quickly pick up steam. The whole book is a crescendo, throwing the friends into one bigger situation after another, escalating to the point where their travels involve marching bands and elephants figure-skating on jam. And every page of Jamberry is just teeming with berries in every way, shape, or form. It's a lovely, energizing book to read out loud and, in my experience, kids love Bruce Degen's visuals of his odd little berry universe.

Last November, I wrote an article about "The Difficult Task of Introducing Your Kid to Folk Tales and Fairy Tales" and one of my recommendations was to steer kids towards "anything in Paul Galdone's Folk Tale Classics series." Galdone is a tremendous author and illustrator and his "Folk Tale Classics" represent some of the best retellings of "classic" stories that I've ever seen. If you want your kid to grow up with a firm knowledge of everyone from The Gingerbread Man to Red Riding Hood, Galdone is your man. For this library project, I went with two of my daughter's favorite editions of Galdone's folk tales – The Little Red Hen and The Three Little Pigs.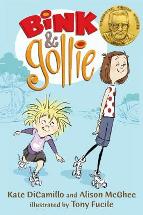 Back in September, I waxed rhapsodic over the second Bink & Gollie book, Two for One, but the original is just as good, if not better. With Bink & Gollie, the authors – Kate DiCamillo, Alison McGhee, and Tony Fucile – have created a George & Martha for a new age. It's a beautiful, hysterically funny look at friendship. As I mentioned in my review of Two for One, "I've been meaning to write about the original Bink & Gollie for months now (and I still probably will one day), but it's one of those books that is SO good that it's actually intimidating to write a review of it. How can I possibly convey the depth of the warmth and humor in Bink & Gollie in a simple blog post?" That's all still true. This is a home library essential.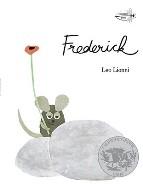 I have never, ever encountered a book that does a better job of explaining the importance and value of art and artists than Leo Lionni's Frederick. It takes all of these abstract concepts like art and emotion and, through the travails of these brilliant little collage mice, makes them easily understandable for young readers. This is a STAGGERING book with an amazing message, and it's fun to read too. My daughter loves it.

I recommended this book back in April when I bought it for another friend who had just had a baby, but let me make something clear. I DON'T think this is an essential home library book. It's a gift book, a very cute gift book with a very cute premise. I bought it specifically because a). I know the mother is a Jane Austen fan and b). I like the idea of introducing two young girls to Elizabeth Bennet as early as possible. Will this win a Caldecott or change their lives? No. But it's undeniably fun and that counts for a lot.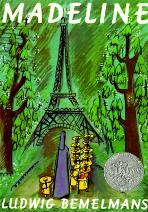 I've written about Madeline a few times before – I recommended the board book version and called it a great road trip read – but I haven't written a longer review of it yet. Trust me, I'll get to it one day because Madeline is, without question, a canonical work of kid's lit. You just have to read it. You HAVE to. It's that good. To quote my board book review, "I will argue you to death if you suggest that Madeline is a "girl" book. It's a KIDS book about a kid being wild and self-confident and forthright and she just so happens to be a girl. While I enjoy the idea of giving this book to a little girl – since Madeline is one of the best little girls in kids lit – I think it'd be a shame to deprive any little boys of such a fun story just because the lead characters are all female. Plus, gender rage aside, just LOOK at the gorgeous paintings of Paris in this board book. Can you think of anything more lovely for your baby to chew on?"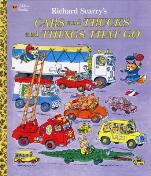 I will admit – there was some part of me that bought this book for twin girls just to sneer in the face of anyone who thinks that books about cars and trucks are just for boys. However, it also helps that Richard Scarry is a genius and his widescreen, remarkably detailed landscapes are some of the most fun literary vistas for children to explore. To quote my earlier review, "Scarry gives his young readers an experience akin to looking at an illuminated manuscript or a medieval tapestry or a Diego Rivera mural – they could flip through Scarry's illustrated tableaus for days and still discover new details that hadn't jumped out at them before."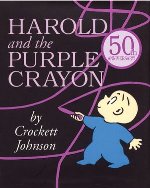 Why is the story of a young boy and his favorite crayon such a renowned work of children's literature? From my perspective, this is one of the first books that a kid ever encounters that lets them know reality is subjective and that they have power over it. What an insanely powerful concept to present to a kid. And what an amazing book. Easily one of THE most essential children's books ever published.
Donaldson and Scheffler are one of the most talented and wickedly clever duos in modern picture books, and The Gruffalo might be their most famous collaboration. A small mouse walks through the forest one day, scaring away predators with stories of the horrible Gruffalo. But what happens when the mouse stumbles upon the Gruffalo itself? It's a wise little tale about brains over brawn and, though my daughter prefers Donaldson and Scheffler's Charlie Cook's Favorite Book, we find ourselves reading The Gruffalo all the time.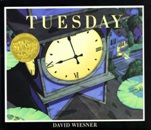 Simply put, two of the most beautiful picture books in the history of the medium. Both of these books have won the prestigious Caldecott Medal and they both really, really deserved it. I penned an ode to Tuesday back in February, in which I said that it "might be the coolest picture book I've ever read. If I was making a list of the ten essential books that ANY home library MUST have (ooh, I might actually do that soon), Tuesday would definitely make the list." And Flotsam is just as good. In my mind, David Wiesner is one of reigning Grand Poobahs the modern picture book and ANYTHING he publishes is totally worth your time.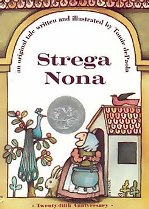 It's strange to think that the character of Strega Nona has only been around since 1975. Tomie dePaola's story of the good-hearted witch with the magic pasta pot has become so ubiquitous over the past 37 years that it just seems like Strega Nona has been around as long as Red Riding Hood, Cinderella, or any other folk tale fixture from history. Strega Nona is simply essential reading material if you're a kid. To say anything contrary would be a real Big Anthony move on your part.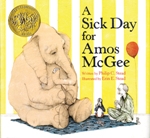 Another worthy Caldecott winner and one of my favorite picture books of the past few years. A Sick Day for Amos McGee is both gentle and profoundly deep. A comforting tale about friendship and compassion all about a revered zookeeper who is visited at home by his concerned zoo animal friends when he takes a rare sick day at home. The Steads are major, major talents and reading this book to my daughter feels like sharing a hot bowl of chicken soup on cold, cold day. Just a wonderful read.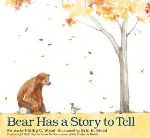 Fun fact – I have never read this book. BUT remember when I just talked about how talented the Steads were? My respect for their ability to create fantastic kids books made me pick up this book for my friends, even though I hadn't even opened it yet. When I went to the bookstore to buy my pals a copy of A Sick Day for Amos McGee and I saw this book sitting next to it – I just had to buy it. And I'm pretty sure I'm not going to regret the purchase.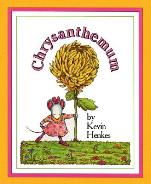 Henkes is a really talented storyteller with a lot of great titles to his name, but Chrysanthemum is my favorite. It's a knowing, perceptive look at a young girl mouse dealing with self-image issues after being teased at school and, in addition to being a fabulous story, it also gives kids some amazing advice on how to be comfortable in their own skin.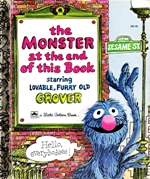 The BEST meta kids' book EVER. Or, to quote myself from back in April, The Monster at the End of This Book is "a groundbreaking book. In my humble opinion, it is one of THE greatest read-aloud books ever written, it is one of the best "books about books" in the history of literature, and, personally, I have a hard time of thinking of more than a few other titles that do such an effective job of showing kids how breathtakingly FUN reading a book can actually be."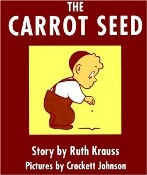 One of the best board books in history. A little boy plants a carrot seed and waits and waits, while his family tells him to give up and lower his expectations. One of the most simple and powerful books in our library. The first time we turned the page where the carrot finally appears out of the ground, my daughter GASPED. It's that good.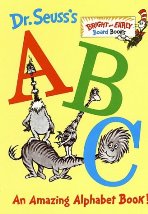 I originally was going to stay away from all things Seuss, since I know most of his books are fairly common baby shower favorites, but I love his ABC book and it used to be my daughter's absolute favorite book to read while potty-training, so I couldn't help myself.
*****
I hope these suggestions were helpful. The "one book a week" rule occasionally makes this process hard because there are SO many amazing books out there for kids. If someone asked me "Why didn't Where the Wild Things Are make your list?" – I wouldn't have a good answer. These just seemed like the right books at the time.
So, let me present you readers with a question now – If your best friends were having a child, what books would you absolutely, positively have to buy them as soon as possible? I'd love to know what titles are hands-down essentials for other kidlit fans out there.