So… it's been awhile, eh?
Yeah, so, apparently, I am a bad, bad blogger. I know it's been ages since I've updated Building a Library and that sad fact has bugged me every single day since my last post.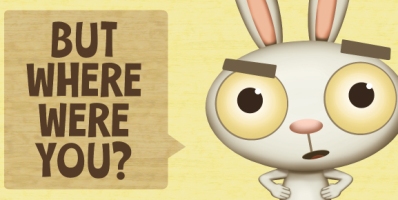 I could make excuses about life getting in the way and so on and so forth, but the real reasons are almost as mundane as that cliché.
First, I needed a break. I was burned out. So I took a break. Then I got writer's block. And, for the life of me, I couldn't find two words to say about the David Wiesner book, even though I've written THOUSANDS of words on David Wiesner in the past.
Then I started writing a novel. It's a YA novel something I've been dreaming about FOREVER and I got really excited about finally finishing the damn thing. Don't believe me? Here's my first crappy paragraph, which, according to a famous Hemingway quote, is probably crap (I'm cleaning his words up a bit):
It started the same way it always did – something horrible happened to the children.

Not "chilling" horrible or anything overtly graphic, thought Stacey as she doodled absent-mindedly on the legal pad next to the cash register. She never imagined the kids being physically harmed or beaten or anything. But, every time the daydream came, if she was being honest with herself, something unspoken, something whispered and alluded to, always did come for the children first.

It was just part of the story.
So… yeah, needs work, right? Well, I was halfway through it and… I got laid off from my job. First time ever. Totally devastated. So I started writing for other websites to make the ends meet and I found I really liked it. I started serving as one of the Dads & Families editors at The Good Men Project (a very cool site), I contributed to 8BitDad (another favorite of mine), and I became a blogger at The Huffington Post (la-de-dah). Here are some of my favorite bits I've written for them over the past few months:
Our Family Was Handed an Anonymous Note at a Baseball Game Last Night—This Is What It Said
How and Why You Should Support the #DadsRead Campaign This Father's Day
The Importance of Buying Normal Clothes for Our Daughters and What You Can Do About It
9 Tips for Taking Your Kid to Their First Comic-Con
Daddy-Daughter Dances: I Do Not Want to Date My Daughter
My 7-Year-Old Daughter Tried to 'Catfish' Me
Long story short. I now have a new job (yay!), I'm back to writing (yay!), and I MISS Building a Library. A lot.  As such, I'm going to be contributing more regularly to the site in the near future and, once you see that I actually haven't abandoned the site again, I hope you'll continue to check us out.
Thanks for your patience, hope you remember me, and I hope you're finding outrageous great books to share with your kids.
{ 3 comments }