I wrote a lot of words about a word book yesterday, which seems appropriate, but, to be honest, reading the 1983 edition of The Sesame Street Word Book is a primarily a visual experience. It's telling that there isn't an author listed for the book – the only credit on the cover is "illustrated by Tom Leigh." Because, while it is great that The Sesame Street Word Book teaches us obscure terms like "pancake turner", "otoscope," and "hod carrier", the real fun of the book lies in Leigh's illustrations. So, in an attempt to convey just what an entertaining book this is to flip through, here are my personal picks for my fifteen favorite illustrations from The Sesame Street Word Book.
Some of these are sweet, some are funny. Some are unintentionally funny. Some are only funny because they remind you that, yes, this book was indeed published in 1983. But, regardless, they all just make me love this book all the more.
1. Hello!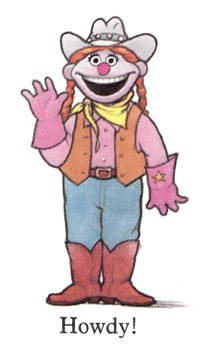 Question: What's cuter than a semi-obscure Sesame Street character saying "Hello"? Answer: Nothing. Have a great rest of the day, Rodeo Rosie.
2. Bathroom Sandwich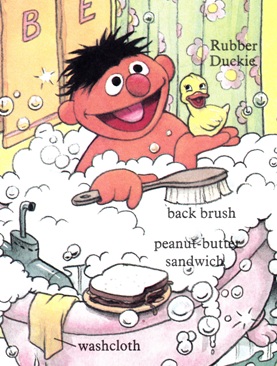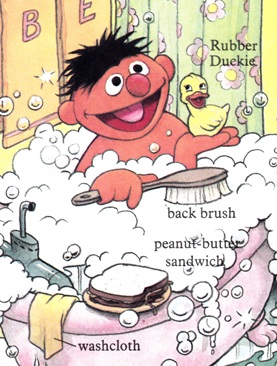 There is a recurring visual joke that runs throughout a lot of Sesame Street books in which the perpetually bathing Ernie is always pictured with a sandwich that he has apparently brought into the bathroom with him. (It shows up pretty often in the 1980s Sesame Street Book Club books.) This is both hilarious and really, really gross. [read the rest of the post…]
{ 3 comments }