It started simply – I asked myself, "I wonder what new kids' books are coming out in October." Two hours later, I was still browsing through publisher catalogs, muttering to myself, "That looks so cool, that looks so cool, that looks so cool…" There just SO many epic kids' book releasing this month (the number of titles coming out on October 7th alone is ridiculous) and I couldn't be happier about it.
In an effort to share the amazing, I decided to put together this quick guide to 21 books that are coming out this month that I'm personally EXCITED about and that I think you should be excited about too. Sometimes, it's because I like the creators' early work, sometimes, I just like the concept, sometimes, I am literally judging the book by its cover. This is a TOTALLY subjective list. But, at the very least, this should give some of you a heads-up about some very cool books that are on the horizon and, if I missed any fantastic-sounding upcoming titles, PLEASE let me know in the comments section below. Enjoy!
♦◊♦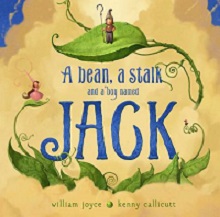 A Bean, a Stalk and a Boy Named Jack by William Joyce, illustrated by Kenny Callicutt
Format: Picture book
Release Date: October 7th
Why You Should Be Excited: It's the newest picture book from William Joyce, the creator of A Day With Wilbur Robinson, Dinosaur Bob, and the beautiful, beautiful The Fantastic Flying Books of Mr. Morris Lessmore, which Joyce adapted from his Oscar-winning short animated film. So… yeah, there's some pedigree here.
♦◊♦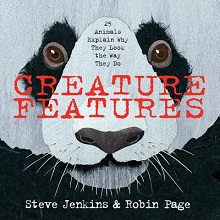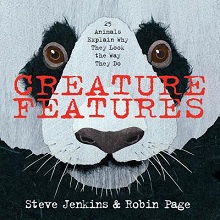 Creature Features: Twenty-Five Animals Explain Why They Look the Way They Do by Steve Jenkins and Robin Page
Release Date: October 7th
Format: Picture book
Why You Should Be Excited: Jenkins makes some of the most consistently beautiful and informative picture books I've ever read – my daughter adores his Never Smile at a Monkey: And 17 Other Important Things to Remember – so I can't imagine this one will be anything less than fascinating.
♦◊♦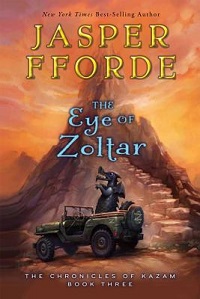 The Eye of Zoltar: The Chronicles of Kazam by Jasper Fforde
Format: Young adult novel
Release Date: October 7th
Why You Should Be Excited: I haven't read the previous Chronicles of Kazam books, so I'm not speaking from experience, but I love, love, LOVE Fforde's Thursday Next and Nursery Crime series, which makes it hard for me to deny the potential on this one.
♦◊♦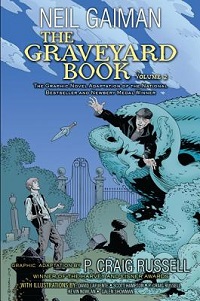 The Graveyard Book Graphic Novel: Volume 2 by Neil Gaiman, adapted by P. Craig Russell
Release Date: October 7th                     
Format: Graphic novel
Why You Should Be Excited: Gaiman's The Graveyard Book is one of my favorite young adult novels of the past ten years and the first volume of Russell's graphic novel adaptation was impressive. (I really love Russell's prior comic adaptation of Gaiman's Murder Mysteries story.) Plus this volume features the conclusion of The Graveyard Book, which I've written about before and absolutely adore.
♦◊♦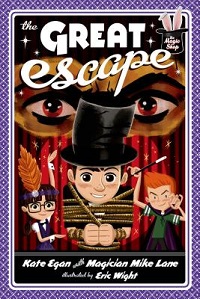 The Great Escape: Magic Shop Series by Kate Egan and Mike Lane, illustrated by Eric Wight
Release Date: October 7th
Format: Chapter book
Why You Should Be Excited: I haven't read the early volumes of the Magic Shop series, but the description sounds very cool – I love magic stuff – and the real reason I'm excited is the artwork by Eric Wight, who's absolutely amazing and who created the totally fantastic Frankie Pickle series of early readers.
♦◊♦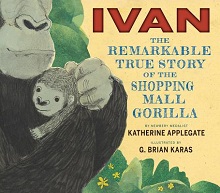 Ivan: The Remarkable True Story of the Shopping Mall Gorilla by Katherine Applegate, illustrated by G. Brian Karas
Release Date: October 7th
Format: Picture book
Why You Should Be Excited: C'mon, this is Applegate adapting the remarkable story behind her 2013 Newbery Medal-winning YA novel into a gorgeous-looking picture book. A new take on The One and Only Ivan that I can share with even younger readers? No-brainer. I'm in.
♦◊♦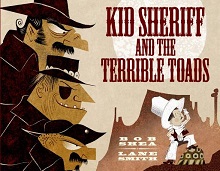 Kid Sheriff and the Terrible Toads by Bob Shea, illustrated by Lane Smith
Release Date: October 7th
Format: Picture book
Why You Should Be Excited: Because… Lane Smith. He's a picture book god and is responsible for SO many of my daughter's favorite books. And his previous collaboration with Bob Shea, the picture book Big Plans, is super, super funny. I'm looking forward to this one. [read the rest of the post…]
{ 3 comments }